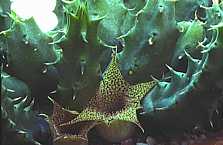 Richard J. Hodgkiss'
Bookmarks
Drawings
Ephemera
My Favourite Recipe
The Succulent
Plant Page
Out in the
Noon-Day Sun
Javascript Utilities
Calculator
Stopwatch
Browser Information
HTML Characters
HTML Colours
Convert ASCII - HTML
Convert Data Types
Other Interests . . .
include dabbling in electronics, an extensive website, growing numerous succulent plants in an east-facing conservatory in south-east England and searching for and photographing cacti and other succulent plants in their habitats. The collection includes a selection of small-growing North American cacti - species that I have been fortunate to find and photograph in the deserts of the south-west USA and a few that I would have liked to find. Most of the collection consists of the "other succulents" including Euphorbias, Asclepiads and caudiciforms.

As growing space indoors is limited, a small collection of frost-hardy succulent plants are kept outside throughout the year. New species are tried each winter - a few survive. The collection also includes a selection of Cactus Kitsch including pin badges, keyrings, pottery and glassware in the shape of, or depicting cacti or other succulent plants.
Multimedia
Movie: Lily Pond - Autumn
Movie: Lily Pond - Summer
Movie: Great Dorset Steam Fair 2009
Movie: Peacocks in Kew Gardens
Movie: The Long March
Movie: Chinese New Year Parade 2019
3D succulent: Sinningia leucotricha
3D: Bluebells
3D: Cliveden