Erica carnea 'Springwood White'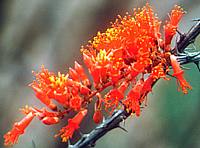 Fouquieria splendens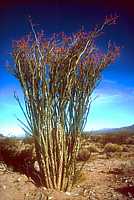 Fouquieria splendens
- Ocotillo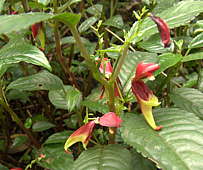 Impatiens hians
The Ericales is an order of flowering herbs, shrubs and small trees containing 24 families and around 8000 species, about half of which are found in the family Ericaceae (blueberries, cranberries, heathers and rhododendrons). Flowers often have five sepals fused together as may be the petals, with twice as many stamens as petals. Stamens may be fused to the base of the petals.

Many members of the Ericales are lime-intolerant and grow on peatlands and sandy soils. Symbiosis between roots and mycorrhizal fungi is common and helps species survive on nutrient-poor acidic soils. The carnivorous plant family Sarraceniaceae survives nutrient poor conditions by capturing and digesting small animals as a source of nitrogen and other nutrients.

The Ericales includes many species of economic importance including blueberries, cranberries, kiwi fruit (Actinidia deliciosa), persimmon (genus Diospyros), and Brazil nuts. Tea (Camellia sinensis) is grown on a massive scale.

Plants from many genera within the order are cultivated for decorative effect including Azalea, Impatiens ("Bizzie Lizzie"), Camelia, Cyclamen, Erica (heathers), Primula, Phlox, and Rhododendron. Some of the Balsams are notoriously invasive weeds.

The only succulent members of the order Ericales are the Balsaminaceae ("Bizzie Lizzies") and the spiny shrubs and trees of the Fouquieriaceae (Ocotillo Family).