Ceropegia
Linnaeus 1753 (Lantern flowers)
This genus contains a diverse group of 160 named species distributed over a wide range including the Canary Islands, Africa, Madagascar, Arabia, India, Ceylon, China, Indonesia, Phillipines, New Guinea and Australia (Queensland).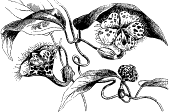 Some of these perrenial plants have succulent stems, which may be dwarf or vine-like and possess fibrous roots. Others have tubers and relatively thin stems, along which new tubers may form at stem nodes. Species with fleshy thickened roots are the most difficult to grow as they are sensitive to moisture. Very often the plant in dies in its pot, but its exploring stems have rooted in the space under another pot where it will grow quite happily. The leaves are opposite, but may be vestigial on species with succulent stems.


Flowers occur either singly or in umbel-like clusters and have a tubular corolla 2 or more times as long as its diameter and longer than the 5 lobes. The base of the tube is usually inflated and the tube may have downwardly orientated hairs on the inside and hairs on the outside and at the edges of the lobes. Colours include reds, purples, yellows, greens and mixtures of these. The tips of the lobes are fused together to form a cage-like flower structure in many species, but are open in others. Flies entering the corolla may become trapped by the internal hairs until the flower wilts.

The genus Riocreuxia contains non-succulent species with woody stems and roots and has sometimes been united with Ceropegia.